RIKK – Rannsóknastofnun í jafnréttisfræðum við Háskóla Íslands er þverfagleg stofnun. Aðalmarkmið hennar er að efla og samhæfa jafnréttisrannsóknir og rannsóknir í kvenna- og kynjafræðum jafnframt því að vinna að og kynna niðurstöður rannsókna.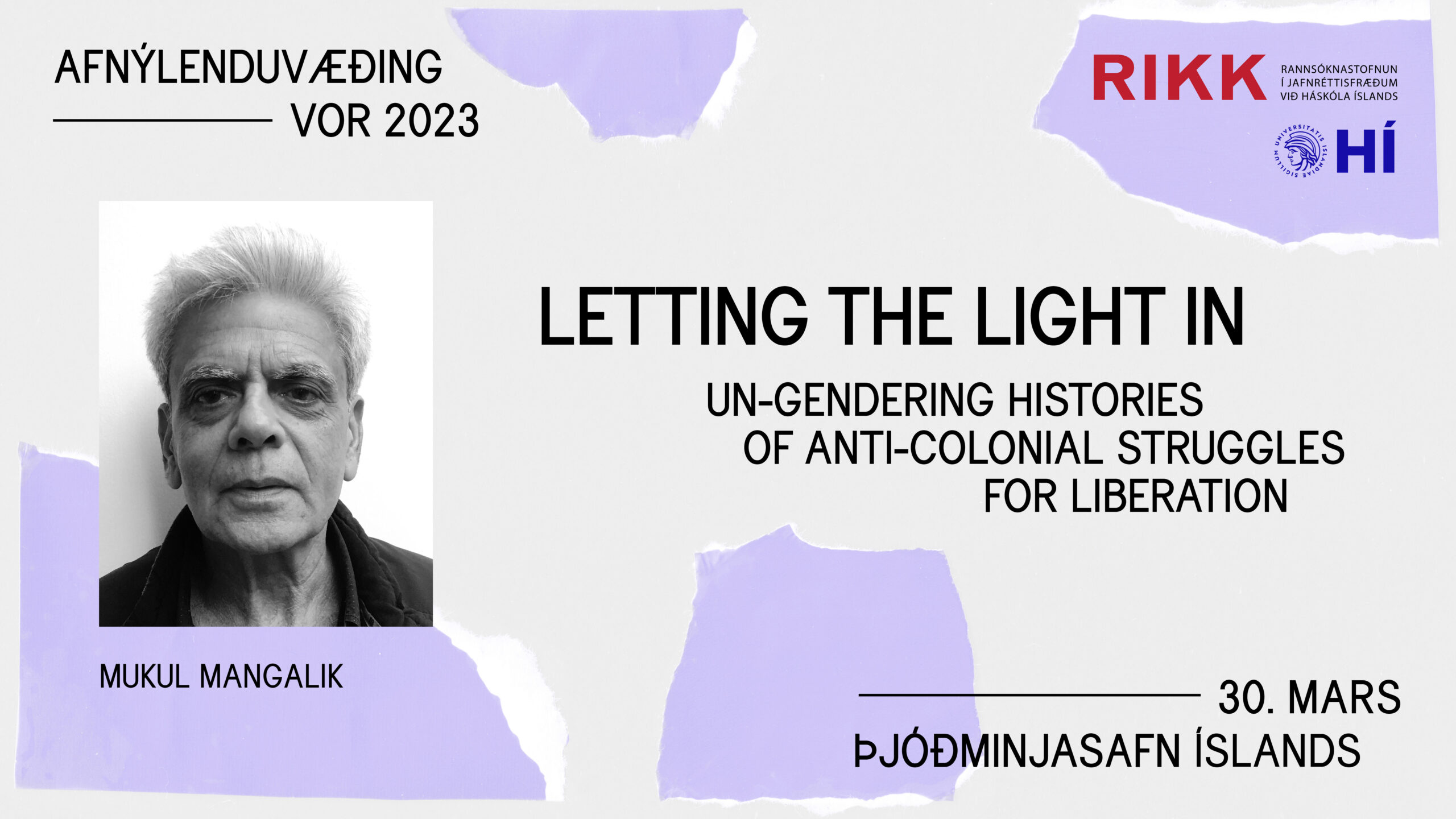 Mukul Mangalik er fimmti fyrirlesari hádegisfyrirlestraraðar RIKK – Rannsóknastofnunar í jafnréttisfræðum á vormisseri 2023 en röðin er tileinkuð afnýlenduvæðingu. Fyrirlesturinn nefnist "Letting The Light In. Un-Gendering Histories of Anti-Colonial Struggles for...
HÁDEGISFYRIRLESTRAR
Hádegisfyrirlestraröð RIKK er vettvangur kynningar á innlendum og erlendum rannsóknum sem snúa að kvenna- og kynjafræði og margbreytileika.
VIÐBURÐIR
RIKK stendur reglulega að ráðstefnum, málþingum og öðrum viðburðum sem tengjast kvenna- og kynjafræðum og margbreytileika.

Maksuton kurssi järjestetään kolmesti kevään 2023 aikana: 16.1.–26.2. 27.2.–9.4. 27.3.–7.5.
Maksuton täydennyskoulutus opettajille
The course aims at providing insights into the application of quantitative and empirically driven perspectives in gender research.
The Democratic Constitutional Design (DCD) research project organises a conference at the University of Iceland on 20 October 2022 on the next steps for the Icelandic Constitutional Revision. DCD examines what lessons can be drawn from the Ic...
A Nordic ReNEW Workshop on Recognising Sexual Violence. Developing Pathways to Survivor-Centred Justice was held in conjuncture with an international conference by the same title at t...
The EDDA Research Center—in cooperation with the Ratiu Democracy Centre and the Babes-Bolyai University in Romania as well as the London School of Economics – LSE IDEAS—hosts an international conference on the perilous political and economic si...
Three of GRÓ GEST lecturers contribute to the RIKK lecture series this semester: Marsha Henry looked at the gendered, racialised, and militarised politics of peacekeeping on 23 February, Marai Larasi's lecture on 15 March was titled ""Time Tra...
The open call for nominations for the GEST 2024 programme closed on the 8 March 2023. A total of 366 nominations were received from 45 countries, most from Africa and South Asia. Of the received nominations, 283 candidates have been invited to submit...
This year, two of the twenty-three fellows participating in the GRÓ Gender Equality Studies and Training programme, GEST, are Erasmus+ students: Bleona Kurteshi from the University of Pristina, Kosovo and Orlando Javon Pearce from the University of ...