RIKK – Rannsóknastofnun í jafnréttisfræðum er þverfagleg stofnun. Aðalmarkmið hennar er að efla og samhæfa jafnréttisrannsóknir og rannsóknir í kvenna- og kynjafræðum jafnframt því að vinna að og kynna niðurstöður rannsókna.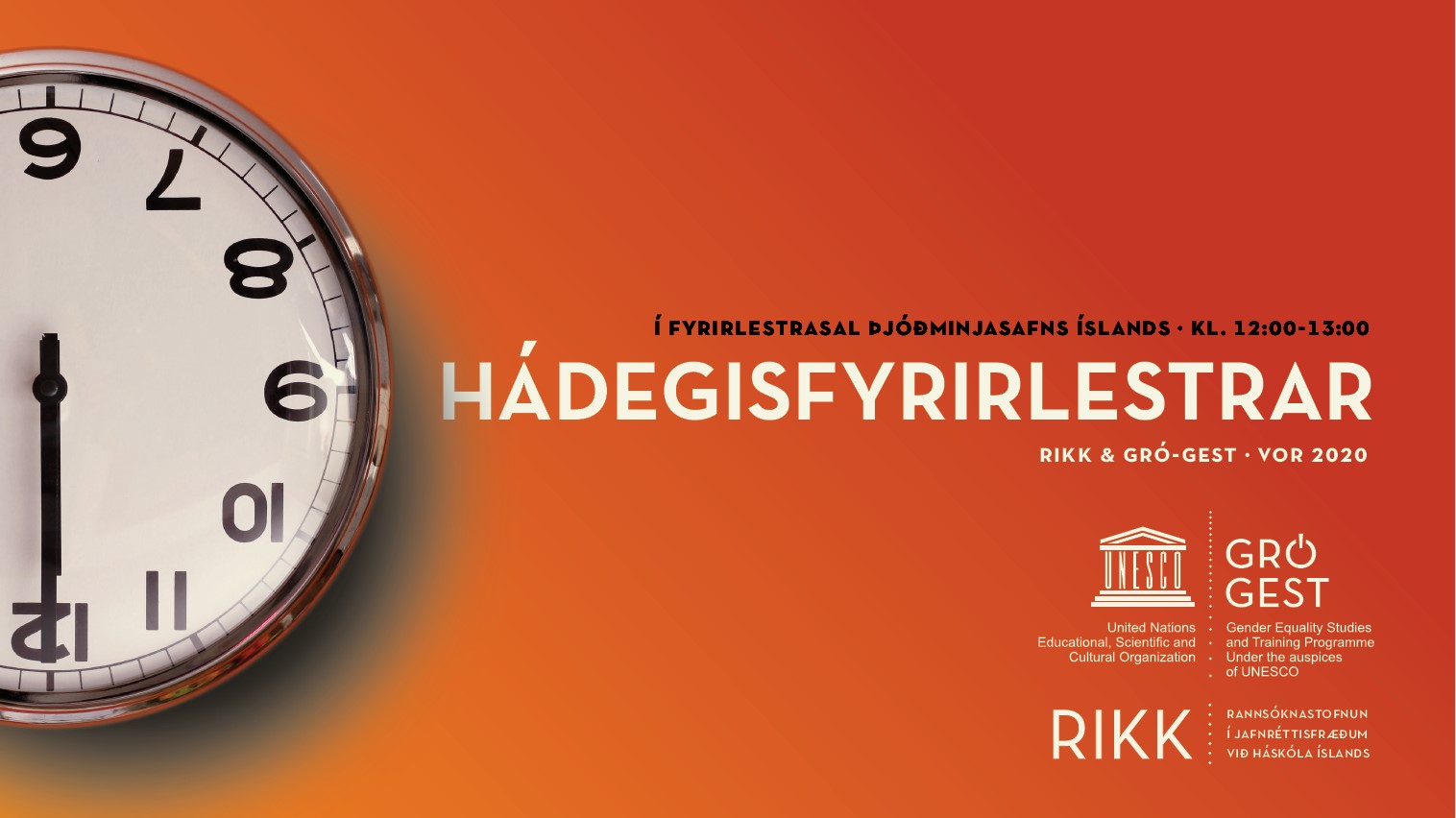 RIKK – Rannsóknastofnun í jafnréttisfræðum og Jafnréttisskólinn (GEST) standa að fyrirlestraröð á vormisseri 2020 sem er tileinkuð loftslasgsbreytingum út frá kynja- og jafnréttissjónarhorni. Hádegisfyrirlestraröðin er haldin í samvinnu við Þjóðminjasafn Íslands og...
HÁDEGISFYRIRLESTRAR
Hádegisfyrirlestraröð RIKK er vettvangur kynningar á innlendum og erlendum rannsóknum sem snúa að kvenna- og kynjafræði og margbreytileika. Fyrirlestrarnir eru haldnir í hádeginu á fimmtudögum í samstarfi við Þjóðminjasafn Íslands, í fyrirlestrasal safnsins.
VIÐBURÐIR
RIKK stendur reglulega að ráðstefnum, málþingum og öðrum viðburðum sem tengjast kvenna- og kynjafræðum og margreytileika.

The National Central Library of Taiwan, the Nordic Institute of Asian Studies and Taiwanese Feminist Scholars Association organize a conference on the strategies for and complexities in feminist transformative practices at local, regional, national a...
How useful is the sociological study of sexuality for challenging new and old backlashes? What methodological and epistemological challenges do sexuality studies face today? These issues will be addressed in this midterm conference.
Senter for kvinne- og kjønnsforskning ved Universitetet i Bergen inviterer alle interesserte ph.d.-kandidater til å søke på tre-dagerskurs i feministisk tenkning rundt den teknologiske utviklingen.Søknadsfrist 28.02.2020.
Fourteen students from Sweden, Finland, Poland, Denmark and Iceland were ready in their seats this morning, eagerly awaiting the arrival of the first lecturer at the ReNEW Summer School 2019, which kicked off today at the University of Iceland in col...
To mark the centenary of the end of the First World War, a symposium – sponsored by the EDDA Research Center and the Institute of History at the University of Iceland (UI) in cooperation with the French and German Embassies in Reykjavik – will be...
The EDDA Research Center,  in cooperation with the ReNEW Excellence Hub, hosts an international conference—to be held at the University of Iceland on 19–20 October 2018—on emergency politics. It brings together scholars in diverse academic fi...
After many years of collaboration, the United Nations University and the GEST programme are parting ways. They do so along with the other three Icelandic UNU programmes (FTP, GTP and LRT). The four programmes and the United Nations Educational, Scien...
This week on December 16-18, the GEST Programme celebrates its 10-year anniversary at the Kenya Institute for Curriculum Development Nairobi in collaboration with the UNESCO Management of Social Transformations Programme (MOST) and the Kenya National...
Last week, GEST alumni in Uganda participated in a dialogue with Ambassador Unnur Orradóttir Ramette, as a part of the 16 Days of Activism against Gender-Based Violence campaign.