RIKK – Institute for Gender, Equality and Difference is a leading institute in the field of women's, gender and equality research in Iceland. Founded in 1991, RIKK promotes interdisciplinary gender research and the dissemination of research results and information.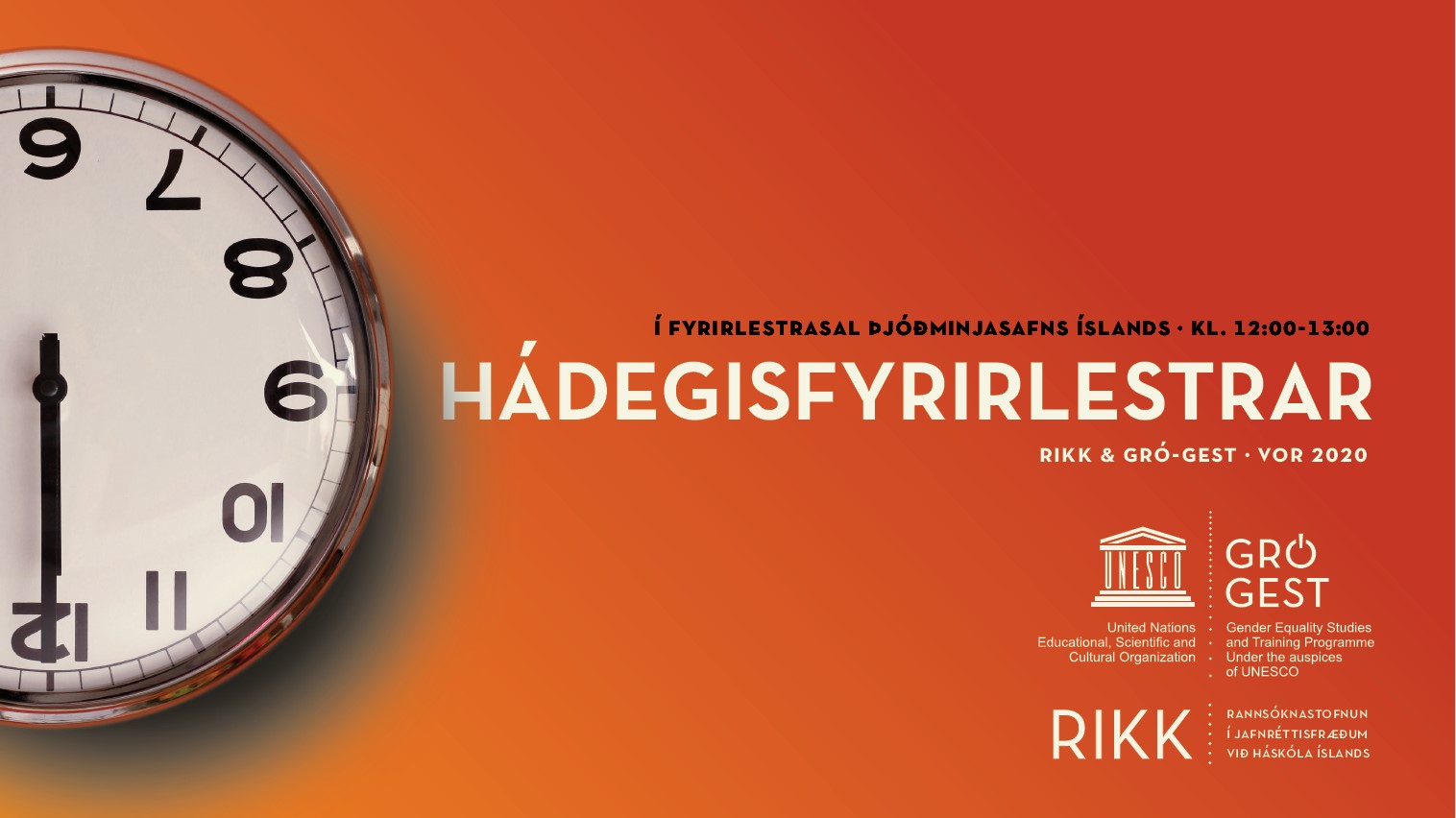 RIKK and the GEST Programme Lecture Series in spring 2020 is devoted to gender and climate change. The lecture series is held in partnership with the National Museum of Iceland. The lectures take place at noon, usually on Thursdays, in the Museum's Lecture Hall, and...
LECTURE SERIES
The RIKK – Institute for Gender, Equality and Difference Lecture Series allows scholars to present and discuss new research in the field of gender and equality studies. The lecture series aims for an interdisciplinary approach with diverse themes and topics. The lecture series in spring is organized in cooperation with the GEST Programme. The lectures are at noon, usually on Thursdays at the lecture hall of the National Museum of Iceland. The Lecture Series is held in partnership with the National Museum of Iceland and the lectures are conducted in either English or Icelandic. Program.
EVENTS
RIKK organises conferences, symposiums and other events in the field.

Konferencen skal formidle den seneste viden på området og skabe dialog mellem fagpersoner, myndigheder og beslutningstagere.
Tampereen yliopisto 12.-13.11.2020, teema 'Toiset tulevaisuudet'. Tampere University 12-13 November 2020, theme 'Reclaiming futures'.
The National Central Library of Taiwan, the Nordic Institute of Asian Studies and Taiwanese Feminist Scholars Association organize a conference on the strategies for and complexities in feminist transformative practices at local, regional, national a...
NEWS FROM EDDA – RESEARCH CENTER
Fourteen students from Sweden, Finland, Poland, Denmark and Iceland were ready in their seats this morning, eagerly awaiting the arrival of the first lecturer at the ReNEW Summer School 2019, which kicked off today at the University of Iceland in col...
To mark the centenary of the end of the First World War, a symposium – sponsored by the EDDA Research Center and the Institute of History at the University of Iceland (UI) in cooperation with the French and German Embassies in Reykjavik – will be...
The EDDA Research Center,  in cooperation with the ReNEW Excellence Hub, hosts an international conference—to be held at the University of Iceland on 19–20 October 2018—on emergency politics. It brings together scholars in diverse academic fi...
After many years of collaboration, the United Nations University and the GEST programme are parting ways. They do so along with the other three Icelandic UNU programmes (FTP, GTP and LRT). The four programmes and the United Nations Educational, Scien...
This week on December 16-18, the GEST Programme celebrates its 10-year anniversary at the Kenya Institute for Curriculum Development Nairobi in collaboration with the UNESCO Management of Social Transformations Programme (MOST) and the Kenya National...
Last week, GEST alumni in Uganda participated in a dialogue with Ambassador Unnur Orradóttir Ramette, as a part of the 16 Days of Activism against Gender-Based Violence campaign.