RIKK – Institute for Gender, Equality and Difference is a leading institute in the field of women's, gender and equality research in Iceland. Founded in 1991, RIKK promotes interdisciplinary gender research and the dissemination of research results and information.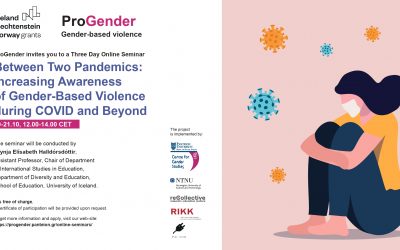 Seminar: "Between Two Pandemics: Increasing Awareness of Gender-Based Violence during COVID and Beyond" Tuesday 19/10/2021, Wednesday 20/10/2021, Thursday 21/10/2021  13.00-15.00 Greece, 10.00-12.00 Iceland, 12.00-14.00 Norway  In this three-day seminar we will...
LECTURE SERIES
The RIKK – Institute for Gender, Equality and Difference Lecture Series allows scholars to present and discuss new research in the field of gender and equality studies. The lecture series aims for an interdisciplinary approach with diverse themes and topics. The lecture series in spring is organized in cooperation with the GEST Programme. The lectures are at noon, usually on Thursdays at the lecture hall of the National Museum of Iceland. The lectures are conducted in either English or Icelandic.
EVENTS
RIKK organises conferences, symposiums and other events in the field.

The first of the 2022 EUGenDem virtual workshops on 'Gender, democracy, and polarized politics in Europe' will be a session on 'Racism, anti-racism, and the EU Institutions'.
perjantaina 28.1.2022 klo 12-15 luentosalissa LS2, Yliopistonkatu 8 Lapin yliopisto
3.2.2022 klo 13-16. Ilmoittautuminen päättyy 31.1.2022.
NEWS FROM EDDA – RESEARCH CENTER
The digital era is changing the terms on which democracies operate. The Prime Minister's Office of Iceland hosts an international conference on the challenges of digital technologie...
A virtual symposium to celebrate the publication of The Routledge Handbook of the Politics of The #MeToo Movement, edited by Giti Chandra and Irma Erlingsdóttir, will be held on Th...
Political Agency after COVID-19: Representation, Power, Constitutions is an online conference on the challenges the COVID-19 pandemic presents and its consequences that are bound to be enormous: Economies may collapse, political leadership will com...
Yet another year has passed at the GRÓ GEST. The GEST team is thankful for having been able to continue GEST' main activities despite the pandemic, including the postgraduate programme.
The GRÓ GEST programme sends its warmest holiday greetings and wishes for a happy new year!
GRÓ GEST celebrated the graduation of 20 fellows, who were awarded a postgraduate diploma in international gender studies from the University of Iceland. The fellows come from 15 countries: China, Egypt, Kenya, India, Iraq (Kurdistan), Malawi, Mexi...