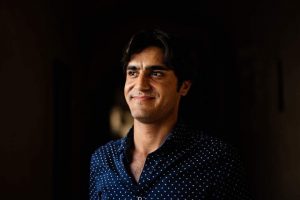 (English below)
Imran Khan heldur erindið "Samfélagsmiðlar og valdefling kvenna í Pakistan", þriðjudaginn 5. september, kl. 15.30-17.30 í Veröld – Húsi Vigdísar.
Í erindinu spyr Khan hvort samfélagsmiðlar séu valdeflandi fyrir konur og hvernig fjallað sé um kvenleikann á samfélagsmiðlum í Pakistan. Hann veitir innsýn í daglega notkun kvenna á samfélagsmiðlum, kynjamun á notkun þeirra og tilraunir karla, annarra kvenna og ríkisins til að stýra henni. Þá ræðir hann þær breytingar sem fylgt hafa aukinni notkun samfélagsmiðla og afleiðingar þeirra verða ræddar út frá sjónarhorni aðgerðarsinna. Khan sýnir þrjár stuttar heimildamyndir á meðan á erindinu stendur.
Imran Khan er framkvæmdastjóri samtakanna Seeds of Peace, hann er með meistarapróf í kynjafræðum frá Quaid-i-Azam-háskóla, BA-próf í stjórnmála- og viðskiptafræði frá Punjab-háskóla og hefur lokið mannréttindaþjálfun hjá Mehergarh stofnuninni í Pakistan.
Á sínum akademíska ferli hefur hann fjallað um viðfangsefni sem tengjast hryðjuverkum, trúarbrögðum og fólksflutningum með hliðsjón af stöðu kvenna í Pakistan. Hann er yfirmaður samtakanna Seeds of Peace í Pakistan og hefur virkjað ungt fólk, sérstaklega stúlkur, til þátttöku í friðarbúðum þar sem lögð er áhersla á traust, leiðtogahæfni, samþættingu og samtvinnun, m.a. trúarbragða.
Áður en Imran hóf störf hjá Seeds of Peace árið 2014 starfaði hann sem framkvæmdastjóri fyrir Pakistan Poverty Alleviation Fund og með ungmennaráði Mannfjöldasjóðs Sameinuðu þjóðanna.
Erindið er haldið í samvinnu RIKK – Rannsóknastofnunar í jafnréttisfræðum, UNU-GEST og Menntavísindasviðs Háskóla Íslands, er flutt á ensku og aðgangur er öllum opinn og ókeypis.
Finndu viðburðinn á Facebook!
Fundarstjóri: Dr. Giti Chandra.
Social Media and Women's Empowerment in Pakistan
Imran Khan will give a talk titled "Social Media and Women's Empowerment in Pakistan" on Tuesday, September 5, at 15:30-17.30 in Veröld – Vigdís house.
Imran Khan is the director of Seeds of Peace in Pakistan, holds a Master's degree in Gender Studies from Quaid-i-Azam University in Islamadad and a Bachelor's degree in Political Science and Economics from the University of Punjab. He is also a graduate of Mehergarh's human rights training courses. Mr. Khan has also worked with UNFPA youth assembly as a young trainer.
In his talk, Imran will ask whether social media empowers women in Pakistan and how womanhood is negotiated on social media. The talk will present some insights into daily uses of social media by women, gender-specific appropriations of technology as well as attempts of men, other women and the state to control them. The opportunities and consequences presented by social media in this context will be discussed from an activist perspective. During the talk Mr. Khan will show three short documentaries.
Imran has built an academic career around the topics of terrorism, religion and mobility with regard to women in Pakistan. He is the country director of the Seeds of Peace organization in Pakistan, engaging young people, especially girls, in interfaith, intersectional and national integration camps dedicated to peace- and trust- building as well as leadership skills.
Prior to joining Seeds of Peace in 2014, Mr. Khan worked for the Pakistan Poverty Alleviation Fund as the Management Executive for Youth in the organization's special initiatives unit. While at the Fund, he worked with four partner organizations focusing on local livelihoods, youth, and community institutions.
The talk is held in collaboration between RIKK – Institute for Gender, Equality and Difference, UNU-GEST and the School of Education at the University of Iceland. It is held in English, it is open to everyone and admission is free.
The event is on Facebook!
Moderator: Dr. Giti Chandra.