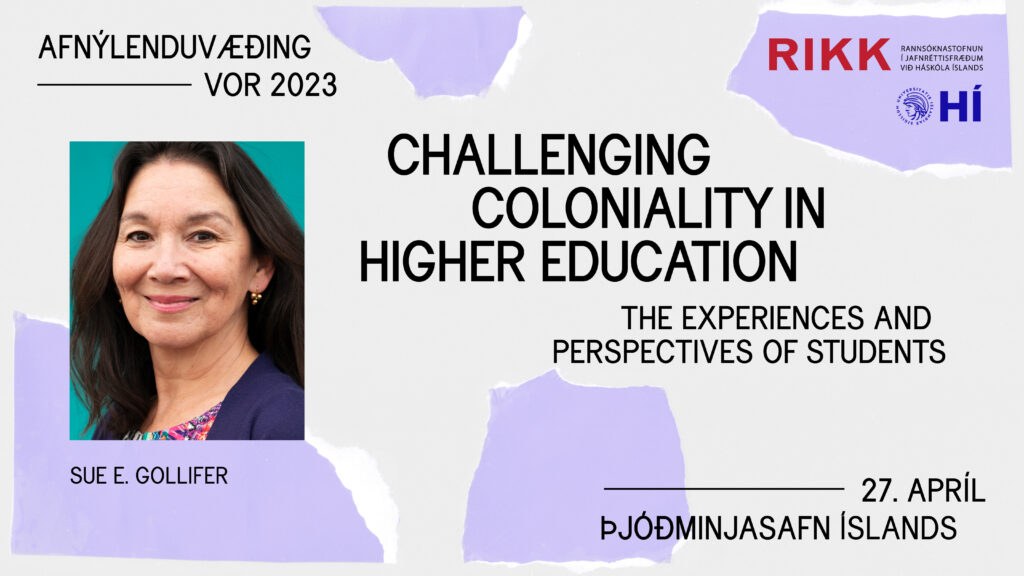 Sue E. Gollifer er sjöundi fyrirlesari hádegisfyrirlestraraðar RIKK – Rannsóknastofnunar í jafnréttisfræðum á vormisseri 2023 en röðin er tileinkuð afnýlenduvæðingu. Fyrirlesturinn nefnist "Challenging Coloniality in Higher Education. The Experiences and Perspectives of Students" og verður haldinn kl. 12.00 fimmtudaginn 27. apríl í fyrirlestrasal Þjóðminjasafns Íslands. Fyrirlesturinn verður fluttur á ensku.
Í fyrirlestrinum mun Sue veita innsýn inn í reynslu og sjónarmið nemenda á menntavísindasviði af því að mæta og rísa gegn áhrifum nýlendustefnu, kynþáttafordóma og kynjamismununar.
Ágrip á ensku má finna hér að neðan.
Sue E. Gollifer er lektor við Menntavísindasvið Háskóla Íslands. Hún er með doktorsgráðu í mannréttindamenntun frá sama skóla og rannsóknasvið hennar eru meðal annars mannréttindamenntun sem velferðarmiðuð umbreytandi kennslufræði og alþjóðavæðing háskólamenntunar í samhengi aukins fjölbreytileika nemenda.
Frekari upplýsingar um fyrirlestraröðina má finna á heimasíðu RIKK – rikk.hi.is – og Facebook-síðu stofnunarinnar auk þess sem hægt er að skrá sig á tölvupóstlista RIKK hér. Upptaka af fyrirlestrinum verður gerð aðgengileg á heimasíðu RIKK og Youtube. Fyrirlestraröðin er haldin í samstarfi við Þjóðminjasafn Íslands.
Decolonisation can be understood as the recognition and challenge of coloniality. This lecture draws on a recorded student-led session on higher education and diversity, as part of a course in the Department of International Studies in Education of the School of Education. The students include international and exchange students, and Icelandic students both with and without an immigrant background. The analysis of the students' dialogue is used to illustrate how students' diverse experiences of and perspectives on navigating higher education can provide the context and content to recognise and challenge dominant epistemologies and discriminatory practices. The intersectional analytical framework used to analyse the dialogue makes visible for example, gendered, geographic and racial inequalities, in ways that draw attention to how institutions can project concern for diversity and inclusion while reproducing exclusion. Providing a relational space for students to take the lead in decolonising processes can encourage pluralistic epistemologies and political action. It further challenges narrow understandings of decolonisation within higher education limited to celebrating diversity without enacting fundamental changes, and which therefore allow coloniality to persist.