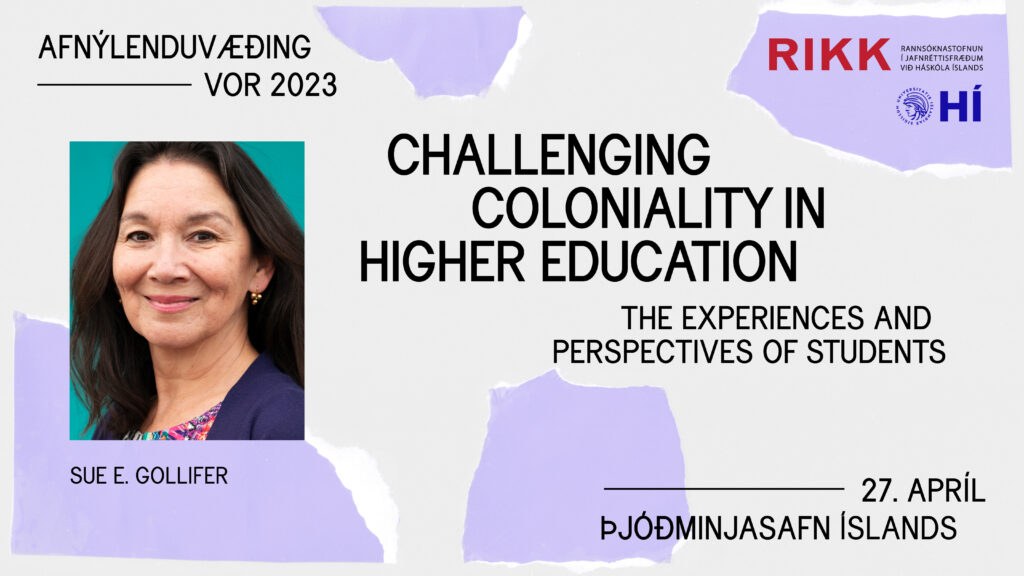 Sue E. Gollifer is the seventh lecturer of the RIKK – Institute for Gender, Equality and Difference at the University of Iceland lecture series on decolonialism in spring 2023. Sue's lecture is titled "Challenging Coloniality in Higher Education. The Experiences and Perspectives of Students" and will be held at 12–13 on Thursday 27 April, at the National Museum of Iceland.
Decolonisation can be understood as the recognition and challenge of coloniality. This lecture draws on a recorded student-led session on higher education and diversity, as part of a course in the Department of International Studies in Education of the School of Education. The students include international and exchange students, and Icelandic students both with and without an immigrant background. The analysis of the students' dialogue is used to illustrate how students' diverse experiences of and perspectives on navigating higher education can provide the context and content to recognise and challenge dominant epistemologies and discriminatory practices. The intersectional analytical framework used to analyse the dialogue makes visible for example, gendered, geographic and racial inequalities, in ways that draw attention to how institutions can project concern for diversity and inclusion while reproducing exclusion. Providing a relational space for students to take the lead in decolonising processes can encourage pluralistic epistemologies and political action. It further challenges narrow understandings of decolonisation within higher education limited to celebrating diversity without enacting fundamental changes, and which therefore allow coloniality to persist.
Sue E. Gollifer is a lecturer in the Department of International Studies of Education at the University of Iceland. She holds a doctorate in Human Rights Education from the University of Iceland. Her research areas include human rights education as a transformative pedagogy to develop social and ecological wellbeing; relational approaches in teacher education; and internationalisation of higher education in the context of increasing student diversity.  Sue has published on human rights education in schools; internationalisation of higher education; and gender and education. Prior to joining the University of Iceland, Sue worked in the field of education in Cambodia where she participated in joint Ministry of Education/nongovernment organisation initiatives for groups excluded from the dominant discourse.  She has designed and implemented educational responses to promote girls' and women's education, including a gender mainstreaming in higher education toolkit for INASP (International Network for the Availability of Scientific Publications).
Further information on the lecture series can be found on RIKK's website – rikk.hi.is – and the institute's Facebook-page. The lecture series is organised with the cooperation of the National Museum of Iceland. A recording of the lecture will be made available on RIKK's website.