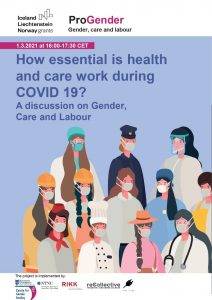 Fyrsta pallborð ProGender-verkefnisins um kynbundin áhrif COVID-19 kreppunnar verður haldið á mánudaginn 1. mars kl. 15:00-16:30 að íslenskum tíma. Pallborðið er haldið á ensku.
ProGender organises an online public discussion on the conditions of work in the health and care sectors and the gender challenges that workers in these sectors face during the COVID-19 pandemic. Participants include representatives of nurses' unions, care workers and specialists from Iceland, Greece and Norway, who will discuss their experiences, struggles and demands during the pandemic.
The COVID-19 pandemic is not only a health and economic crisis but also a crisis of reproduction and care. While many workers stay home performing work-related tasks remotely and facing hard work-life balance dilemmas, there are also some workers who are forced to continue working in hospitals, schools, kindergartens, and elderly care centres. The majority of those professionals are female, and in the case of the healthcare and cleaning sectors also of migrant or ethnic minority background, facing increased pressure and heightened exposure to the virus. Although they are at the forefront of the struggle against the pandemic putting their lives at risk, their contributions remain undervalued and unrecognized, because of continuous structural inequalities and biases characterizing these feminised and often racialised professions. COVID-19 and protest by labour unions and feminist organisations across the world have brought to the forefront of public debate the need to address their essential role by offering them much more than just appreciation: equal payment, professional recognition, protection, work-life balance support and better working conditions. ProGender will bring together stakeholders from Greece, Iceland and Norway to discuss what challenges COVID-19 raises for gender equality and address possible policy responses from a gender perspective.
Speakers include:
Kristín Dýrfjörð, Associate Professor at the School of Humanities and Social Sciences, University of Akureyri, Iceland

Sonja Ýr Þorbergsdóttir, Chair of the Federation of State and Municipal Employees (BSRB), Iceland

Kristine Sommerset Bjartnes, Social worker at IPPF organization, Norway

Silje Naustvik, Deputy Head of the Norwegian Nurses' Association

Tzannis Polykandriotis, General Secretary of the Panhellenic Trade Union Nursing Federation of the Hellenic National Health System (PASYNO – ESY), Greece

Aurora Tabangin, Melissa Network of Migrant Women, Greece
Join Zoom Meeting
https://zoom.us/j/96123469447?pwd=cjBNSjJVRHFQYjRKRW9pQi9WQ0RFZz09
Meeting ID: 961 2346 9447
Passcode: 492369
With live streaming on Facebook @ProGenderproject