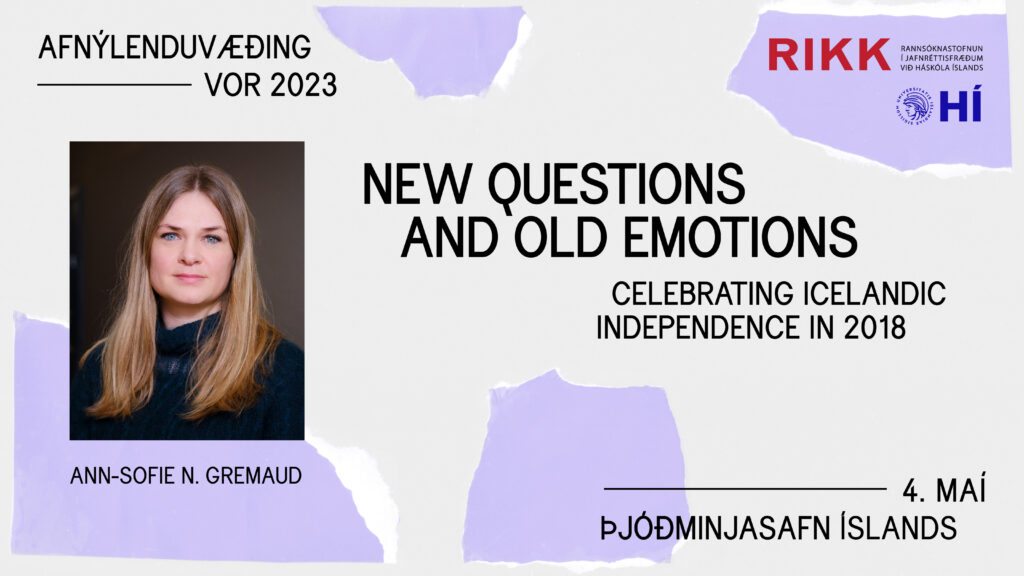 Ann-Sofie N. Gremaud is the eight lecturer of the RIKK – Institute for Gender, Equality and Difference at the University of Iceland lecture series on decolonialism in spring 2023. Ann-Sofie's lecture is titled "New Questions to Old Emotions. Celebrating Icelandic Independence in 2018" and will be held at 12–13 on Thursday 4 May, at the National Museum of Iceland. The lecture is the last of the spring semester, however, the fall 2023 series will continue the same topic.
In the lecture, Ann-Sofie Gremaud seeks to shed light on markings of Icelandic independence from Denmark on the occasion of the centenary in 2018 as well as some of the principal activities in Iceland that year. Central elements such as the event at Þingvellir, the exhibition Lífsblómið and the joint Icelandic-Greenlandic anniversary edition of the paper Sermitsiaq showed how discourses about nation building, imperial formation, and scrutinization of Icelandic democracy are intertwined. The lecture includes an analysis of the emotionality as well as the colonial and postcolonial positions and scripts of the debate between a Danish and an Icelandic MP following the Þingvellir celebration. The lecture will also cover some of the artworks that were included as key elements in the official programme and some of those that became part of it through protests and performances. These artworks exposed overlappings of issues of cultural intimacy, sovereignty, discrimination, imperial formation, and democracy. These processes all took (and take) place in a discursive space that includes imperial debris, the celebration of 2018 as a reconfirmation of 1918 as a Stunde Null: a new reality as an independent nation, but also as critique of fundamental flaws in the democratic tissue of the state formation process.
Ann-Sofie N. Gremaud is an associate Professor of Danish at the University of Iceland. She holds a PhD from the University of Copenhagen and has published on contemporary Icelandic art and politics, on the crypto-colonial aspects of the Icelandic-Danish relation and on emotional economies within the former Danish empire. She has co-edited the volumes Artistic Visions of the Anthropocene North: Climate Change and Nature in Art, Routledge (with Gry Hedin) 2018 and Denmark and the New North Atlantic. Narratives and Memories in a Former Empire, Aarhus University Press (with Kirsten Thisted) 2020. She is currently a part of the research network The Art of Nordic Colonialism: Writing Transcultural Art Histories.
Further information on the lecture series can be found on RIKK's website – rikk.hi.is – and the institute's Facebook-page. The lecture series is organised with the cooperation of the National Museum of Iceland. A recording of the lecture will be made available on RIKK's website.