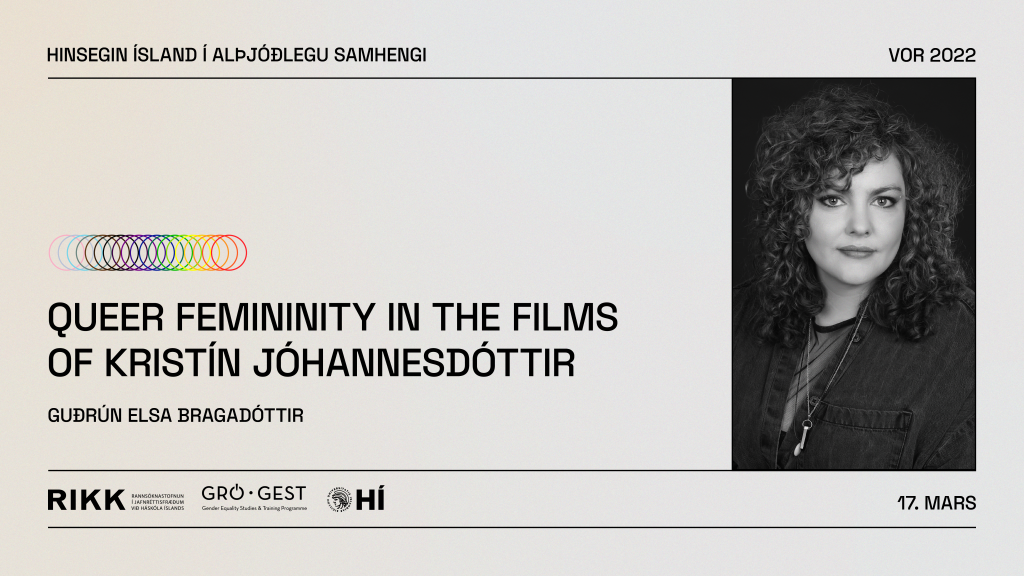 Guðrún Elsa Bragadóttir is the fifth lecturer of the RIKK – Institute for Gender, Equality and Difference and GRÓ-GEST lecture series Queer Iceland in an International Context in spring 2022. Guðrún's lecture is titled "Queer Femininity in the Films of Kristín Jóhannesdóttir". The lecture is held Thursday 17 March at 12.00 at the Lecture Hall of the National Museum and is live-streamed.
Ever since Laura Mulvey's "Visual Pleasure and Narrative Cinema" made its indelible mark on film theory in 1975, taking simple enjoyment in visual representations of women has become increasingly difficult and, for many, an experience fraught with ambivalence. Viewers have become all-too aware of the 'male gaze' permeating dominant images of femininity and yet it can feel all but impossible to avoid. As a mechanism of patriarchal control, the male gaze is aggressive at its core. Its function is to control femininity—that is, to contain its unlikeable and disconcerting aspects, those deemed threatening and aggressive within the social structure. Focusing on femininity and aggression, this lecture deals with the difficulties of abandoning the uneasy comforts of the gaze, before taking on the (frequently uneasy) pleasures made possible by its destruction. The works of director Kristín Jóhannesdóttir allow for an exploration of such pleasures, as her films contain worlds that have little regard for patriarchal control and embrace aggressive femininity in its female characters' unruliness, humor, and sexuality. This lecture explores our complicated relationship to femininity, while seeking alternatives to the male gaze in the form of 'queer' representations of femininity in Jóhannesdóttir's films, with a specific focus on her latest feature, Alma (2021).
Guðrún Elsa Bragadóttir teaches film theory at the University of Iceland. She graduated with a PhD from The State University of New York at Buffalo in August 2021. Her dissertation, Feminine Aggression and Queer Femininity in Contemporary American Film and Literature, explores indirect 'feminine' aggression as a creative force in film, literature and drag performances.
Eyja Margrét Brynjarsdóttir moderated the session.
Further information on the lecture series can be found on RIKK's website – rikk.hi.is – and the institute's Facebook-page. A recording of the lecture will be made available on the Humanities Department's Youtube channel.