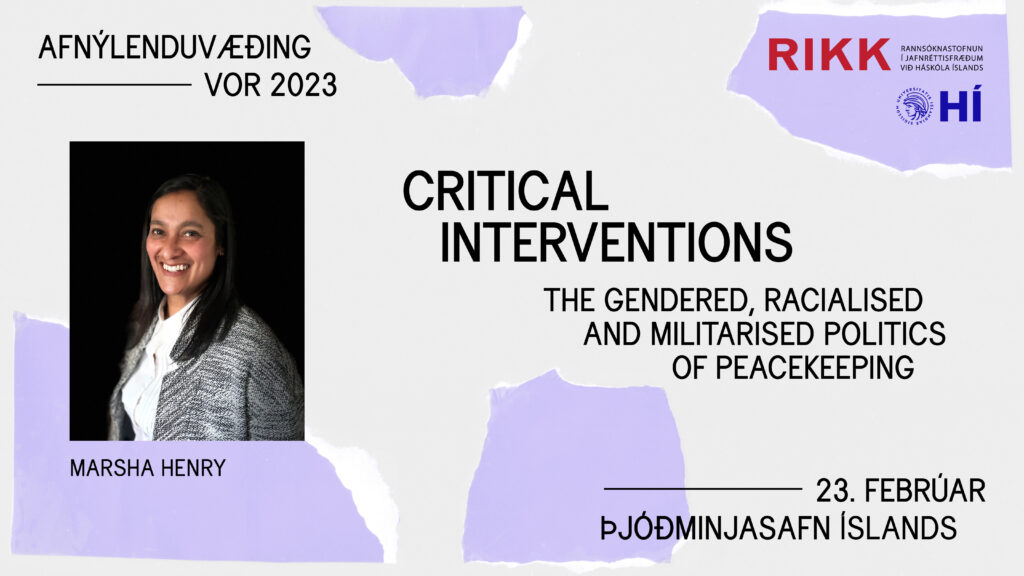 Marsha Henry is the third lecturer of the RIKK – Institute for Gender, Equality and Difference lecture series on decolonialism in spring 2023. Her lecture is titled "Critical Interventions. The Gendered, Racialised and Militarised Politics of Peacekeeping" and will be held at 12–13 on Thursday 23 February, at the National Museum of Iceland.
The lecture is concerned with reimagining peacekeeping, which starts with a return to critical theories and concepts in order to acknowledge the production of gendered, racial and militarised inequalities in peacekeeping relations.  In particular, through critical concepts from gender theory such as standpoint and intersectionality, alongside postcolonial and critical race theories that include the colour line and the geopolitics of coloniality, the lecture traces the dead-ends that arise when peacekeeping studies relies on policy and practice driven objectives, alone, and forgets much of the critical legacies established 2000 onwards.
Marsha Henry is an Associate Professor in the Department of Gender Studies at the London School of Economics and Political Science. Marsha's research interests focus on critical military and peacekeeping studies; the political economy of sexual violence in post-conflict settings; and intersectional feminist theories and methodologies.
Further information on the lecture series can be found on RIKK's website – rikk.hi.is – and the institute's Facebook-page. A recording of the lecture will be made available on RIKK's website and Youtube.
Due to technical difficulties there is no recording of the lecture.