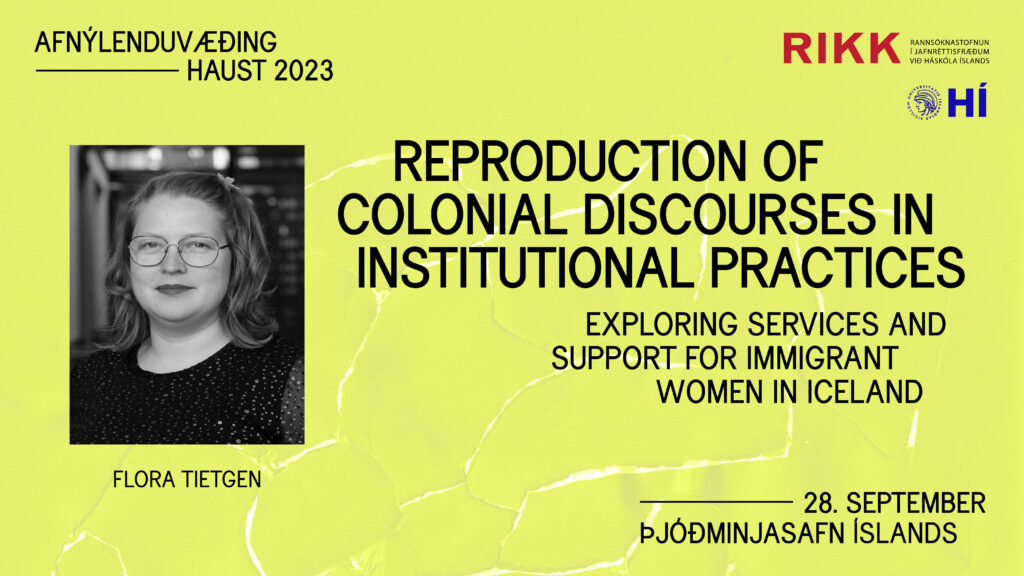 Flora Tietgen is the second lecturer of the RIKK – Institute for Gender, Equality and Difference at the University of Iceland lecture series on decolonialism in fall 2023. Flora's lecture is titled " Reproduction of Colonial Discourses in Institutional Practices. Exploring Services and Support for Immigrant Women in Iceland" and will be held at 12–13 on Thursday 28 September, at the National Museum of Iceland.
According to the #MeToo stories of immigrant women in Iceland, published in 2018, their experiences with institutions that provide services and support for immigrants and/or women who experience intimate partner violence (IPV) are characterized by a lack of cultural sensitivity and appropriate responses to the women´s needs. Inspired by these stories, 20 semi-structure interviews were conducted with service providers and NGOs that work with immigrant women who have experienced violence – either at work or in intimate relationships. Drawing on postcolonial theories, the lecture will analyse how service providers/NGOs in Iceland construct the needs of immigrant women which are often framed within the "rights" discourse by focusing specifically on the intersection of ethnic background, gender, and immigration. Furthermore, the lecture draws attention to how service providers and NGOs in Iceland construct unilateral knowledge on immigrant women which sustains and reproduces whiteness and coloniality. In other words, service providers and NGOs rarely incorporate postcolonial perspective into their institutional practices. With the aim to understand the working power in terms of service provision for immigrant women and how it reproduces colonial discourses, this critical examination of how services are provided and which shortcomings there are, has the potential to make suggestions for more culturally appropriate and decolonial services for all immigrant women.
Flora Tietgen is a doctoral student at the Faculty for Education and Diversity at the University of Iceland. She is part of a research project on experiences of violence of immigrant women in Iceland and her research focus is on experiences of intimate partner violence. Flora completed a master's degree in Political Science and Sociology at the University of Würzburg in Germany. Before joining the project, she worked as a project assistant at the Gender Studies and Training Programme (GRÓ-GEST) in Iceland. Her research interests include gender-based violence, immigrant experiences, structural violence, and critical theory.
Further information on the lecture series can be found on RIKK's website – rikk.hi.is – and the institute's Facebook-page. The lecture series is organised with the cooperation of the National Museum of Iceland. A recording of the lecture will be made available on RIKK's website.