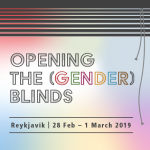 This is the second conference held by RIKK, The Root, and their collaborators, on addiction and treatment. The first was held in September, 2015. This conference's objectives are: getting together Nordic and international scholars and professionals working with addiction to share knowledge on the connection between gender, trauma and addiction; energizing and broaden potential networks on women and addiction; and organizing a workshop for professionals working with women with addiction problems.
Over two days, speakers and panelists encompassing professionals from treatment services, health care institutions, welfare system, and others professionals and laymen, will discuss the many complex issues surrounding addiction, trauma,and treatment.
The conference will engage with the following themes:
Gendered barriers in addiction treatment (for women, non-binary and transgender individuals, survivors of sexual abuse, LGBT individuals, income poor women, women in prisons etc.)
Gendered experiences in the treatment of addiction
The role of gender in entering, continuing and succeeding in treatment programmes
Addressing specific needs of women (and marginalized groups) in treatment
Accountability for women's wellbeing within treatment programmes, on part of service providers and practitioners
Women specific treatment programmes
Young women and addiction
Elderly women and addiction
Addiction as a development issue
Networking for change
Further information can be found on the conference website and on Facebook.