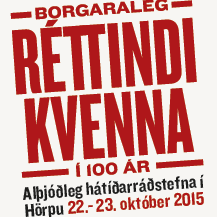 100 years of Women's Civil Rights International Conference Celebrating the Centenary of Women's Suffrage in Iceland was held in Harpa 22-23 October 2015.
Conference program and further information is available on the conference website.
Recordings from the conference are available on Youtube: Alþjóðleg ráðstefna í tilefni af aldarafmæli kosningaréttar kvenna.